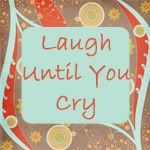 Name: Beth P

Age: 28

Location: New Hampshire

Blog Address: http://welaughuntilwecry.blogspot.com
When did you decide you wanted to start blogging seriously and why?
I started my blog when I was pregnant with my son because I wanted to keep a journal of sorts. About eight months after he was born I found out that I was not being rehired as a music teacher at the elementary school I was at, and that was a turning point in my blogging. The trials and tribulations of becoming an unemployed, non-voluntary SAHM were powerful and I used my blog as a form of therapy, as a way of connecting with people since I would be losing out on having "colleagues" and as a way to document it all. I've been an active, growing blogger ever since.

Between everything going on in your life where do you find the time to blog?
I just make it work. A few minutes here and there, when I first get up in the morning, nap time, at night while my husband watches television. It is something I love to do, so I make it work.

What do you think sets your blog apart from the rest?
Well I would never claim to be superior because... well I am not. What I love about my blog, though, is how honest I can be there. I don't hold anything back, and whether it is good or bad, I love sharing everything openly.
Being the successful blogger that you are what are some tips that you can share with the newer members of the mom blogging community on getting traffic and not getting burned out?
Be consistent. Whether you post five days a week or once a week, do it regularly. Visit other blogs, leave comments, get involved in conversation. Make sure people can reach you (don't have a "no-reply" email address - that is so frustrating!) and that you respond when they do. Be honest, real and say what is on your mind. Most of all, remember that your blog is YOUR space. Yes, having comments and visitors and followers are nice, but ultimately you started your blog for you!
There are so many things that you put out there about yourself when you do a blog. Are there subjects that you keep off limits strictly for those closest to you?
Well, I don't talk about religion. It is such a touchy subject, and the fact of the matter is that I don't even know where I stand on it. It just isn't something I discuss with anyone, online or in life. Politics is also something I don't discuss - this is for personal reasons, though. There are some people in my life who have a "my way or the highway" mentality when it comes to politics and I don't dare get myself caught up in that mess.
Looking forward where do you see yourself and your blog going in the next few years?
I am definitely looking forward to it! I have been growing very steadily over the past 18 months or so and I am definitely hoping that will continue. I love doing an occasional review or giveaway because supporting each other is magnificent, and I love writing about the adventures my family endure. One of my favorite things to do is to get "lost" in my blog and read through old posts and look at older pictures just to reminisce - I can't imagine the joy I will find in doing that in the future!